8(a) STARS III officially launched two years ago this month, and it's worth celebrating this important anniversary milestone. This governmentwide contract has really hit the ground running, and I couldn't be more proud of its success in helping agencies achieve their missions. I'd like to share why we are so happy with this program.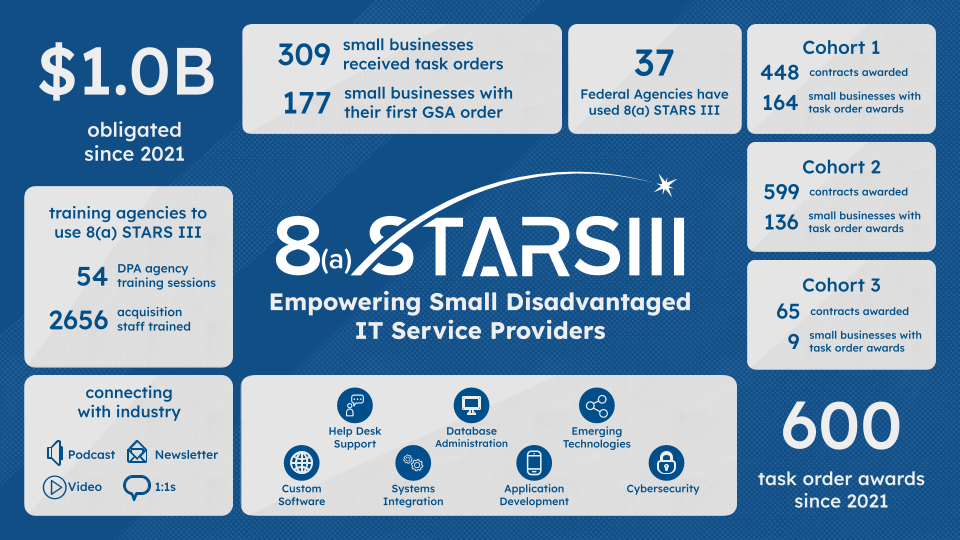 Supporting the mission of government
8(a) STARS III is a competitively awarded, multiple-award, indefinite-delivery/indefinite-quantity governmentwide acquisition contract (GWAC) set aside for participants in the Small Business Administration's 8(a) program. 8(a) STARS III is GSA's fourth-generation 8(a) GWAC and continues the legacy of creating opportunities for small disadvantaged businesses while helping federal agencies meet their socioeconomic goals and mission-critical IT requirements.
STARS III delivers opportunities to more than a thousand 8(a) businesses and drives progress on important public policy objectives, including the President's Executive Order on Advancing Racial Equity and Support for Underserved Communities Through the Federal Government as we work to improve diversity, equity, inclusion, and accessibility.
Phased award approach
We awarded cohort one of 8(a) STARS III in June 2021 to 448 industry partners. Then awards for cohort two were announced in February 2022 to nearly 600 additional awardees. The third and final cohort award happened in June 2022 for an additional 65 awardees – just one year ago.
Traditionally, we made awards in one batch, but with 8(a) STARS III, we reinvented the award process. Using an innovative cohort approach, we gave 8(a) firms additional opportunities by allowing initially unsuccessful offerors a second and third chance. 145 of these cohort two and three industry partners have received task order awards proving that they can be successful if given an opportunity.
Major success
In just two years, 8(a) STARS III secured $1 billion in obligations through 600 task order awards to 309 small disadvantaged businesses. Notability, 177 of them have never had a task order award through GSA before. That's incredible and really shows how 8(a) STARS III is building opportunities for the community.
Agencies adopting 8(a) STARS III
37 federal agencies have already put their faith in the contract with an award, and more than 2,656 acquisition professionals from 54 agencies have signed up and received their delegation of procurement authority training.
Those agencies are leveraging the contract for a variety of IT Services to meet their mission, including help desk support, database administration, emerging technologies, custom software and applications development, systems integration, and cybersecurity solutions to secure the enterprise.
Hand-in-hand with industry
This doesn't happen all by itself. We've worked hard to build meaningful relationships with these small businesses through one-on-one engagement, monthly snapshot newsletters for awardees, video tutorials, and even through our new GSA Does That podcast. We've also created an 8(a) STARS III Resource Center where our industry partners can find just about everything that they need to be successful.
Empowering small businesses
Again, I couldn't be more proud of 8(a) STARS III as we empower disadvantaged small businesses to deliver mission-critical IT services to the government. Visit our website to learn more about www.gsa.gov/stars3.
Follow ITC on LinkedIn and Twitter, and subscribe for blog updates.