In 2019, two distinct working groups comprised of federal telecom professionals merged to form the Federal Mobility Group (FMG). Focused on the four pillars of agency mission enablement, 5G technology, mobility security, and acquisitions, the FMG's purpose is to:
Share information to enable government adoption of secure mobile technologies supporting mission
Identify/Address member priorities (gaps/challenge areas)
Identify/Address Federal CIO Council and Office of Management and Budget (OMB) priorities
GSA is one of three FMG Chairs, supported by subject-driven working groups. GSA shares its FMG leadership role with the Department of Homeland Security (DHS) and the National Institute of Standards and Technology (NIST) and has served the FMG since inception. The FMG's 2020 agenda focused on supporting agencies' pandemic related security and mobility challenges as well as delivering research on Mobile Security and 5G.
2020 Recap
Working groups are the engines of the FMG – and while pandemic response was top of mind, the FMG working groups used 2020 to deepen exploration and discovery across many technical areas:
Mobility 101: Interested in how the federal government defines mobility? Need help understanding the existing acquisition options agencies can leverage to procure mobile technology? Watch the acquisition working group's webinar highlighting available products and services.
5G Use Cases: The 5G & Mobile Network Infrastructure working group collected and edited 11 federal use cases and published their Framework to Conduct 5G Testing, a modular approach to support the diverse needs of government stakeholders. On April 27 and 28, 2021, the FMG will host an interagency workshop based around this framework.
5G Public Policy Guidance: Want to learn more about policies and regulations impacting the adoption of 5G? Read more about the accomplishments and work from the FMG on their site (PIV card required) where you can review the white paper published by the Mobile Network Infrastructure subgroup. Public facing news and deliverables can be found on the FMG page and News section of the Cio.gov site.
Engage, Explore, Educate: In addition to developing resources to support the mobile community, the FMG invites industry partners to share new technologies and discuss recent events and learning, ensuring the team benefits from industry best practices.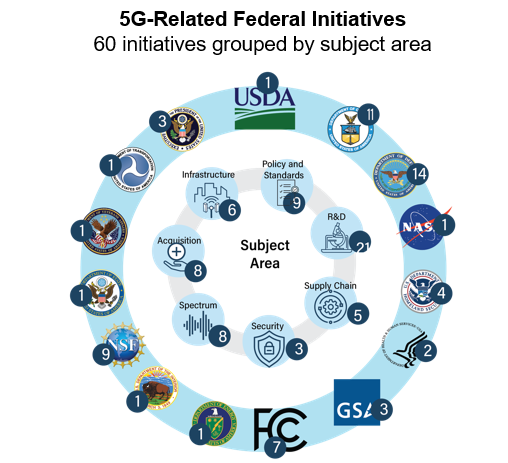 Looking Forward to 2021
The Federal Mobility Group has set a high bar for its 2021 deliverables. They include:
FY 21 & Beyond: FISMA Mobility Metrics Report
Integrated Data Collection Mobility Data Reporting/Analysis
International Travel Guidance For Mobile Devices
Mobile Security Ecosystem Whitepaper
On April 20, 2021 ATARC and the FMG will co-host an event showcasing the work of the team and discussing 5G and Mobile Security in government. Register here.
The Mobility team at GSA supports a growing number of digital tools and resources to position your program and contracting staff for long-term success. If your agency is interested in learning more about our suite of mobility offerings, GSA's Multiple Award Schedule and Enterprise Infrastructure Solutions (EIS) have everything from Wireless Carrier Services to Mobile Threat Defense to Internet of Things (IoT) solutions.
Get Involved
The FMG includes 200+ federal mobility SMEs and support contractors from 45 agencies and bureaus across the federal and technical spectrum. The group meets bi-weekly to discuss a variety of topics. Membership requires an active .gov or .mil address. To join the team, email wireless@gsa.gov.
Other 5G/Mobility Great Government Through Technology posts:
As always, follow us on Twitter @GSA_ITC and LinkedIn to join our ongoing conversations about government IT.
To get updates for this blog, please sign up on the right-hand side of the page where it says Sign up for Blog Updates.