How adaptable is your network?
Think back on how your organization worked through the early months of the COVID-19 pandemic, and you'll have your answer.
Having a Modernized Infrastructure Paid Off
Agencies with modernized services such as Ethernet-based networks and software-based IP phones were able to operate with minimal disruption as their workforce shifted to full time telework. They took advantage of scalable bandwidth to quickly meet increased network requirements without the need for physical or onsite changes. This agility is one of the many advantages of modern infrastructure and cloud deployed applications. IP Voice users similarly kept making calls regardless of their physical location, and those with Unified Communications leveraged capabilities such as chat, conferencing, collaboration tools and presence applications to keep their workforce on mission.
SD-WAN Integrates and Orchestrates Your Network
IT leaders are actively seeking to implement a new networking technology called Software Defined – Wide Area Network (SD-WAN). SD-WAN can securely connect your headquarters, data centers, branch offices, and remote workers with numerous cloud-based services. SD-WAN can enable Trusted Internet Connection (TIC) use cases, segment users and applications, and play a role in Zero Trust Network architectures.
SD-WAN Is Now a Managed Service Under EIS
We recently added SD-WAN to our Enterprise Infrastructure Solutions (EIS) contract. SD-WAN is ideal for improving network performance since it increases visibility and control enterprise-wide. It saves money and increases performance by allowing the use of different types of internet connections such as broadband internet, 4G/5G wireless internet or high-availability Direct Internet Access based on availability and need. It can even be incorporated with existing Multiprotocol Label Switching (MPLS) circuits for critical applications.
SD-WAN Features and Ordering At-a-Glance
Our team created four new use cases for SD-WAN, Ethernet, IP Voice and Traditional TIC to show key info as a handy reference. These single-page infographics highlight the technologies we see driving modernization, the business value those technologies can offer you, and our implementation recommendations. We also offer supporting documents such as in-depth savings analyses, service guides, and whitepapers.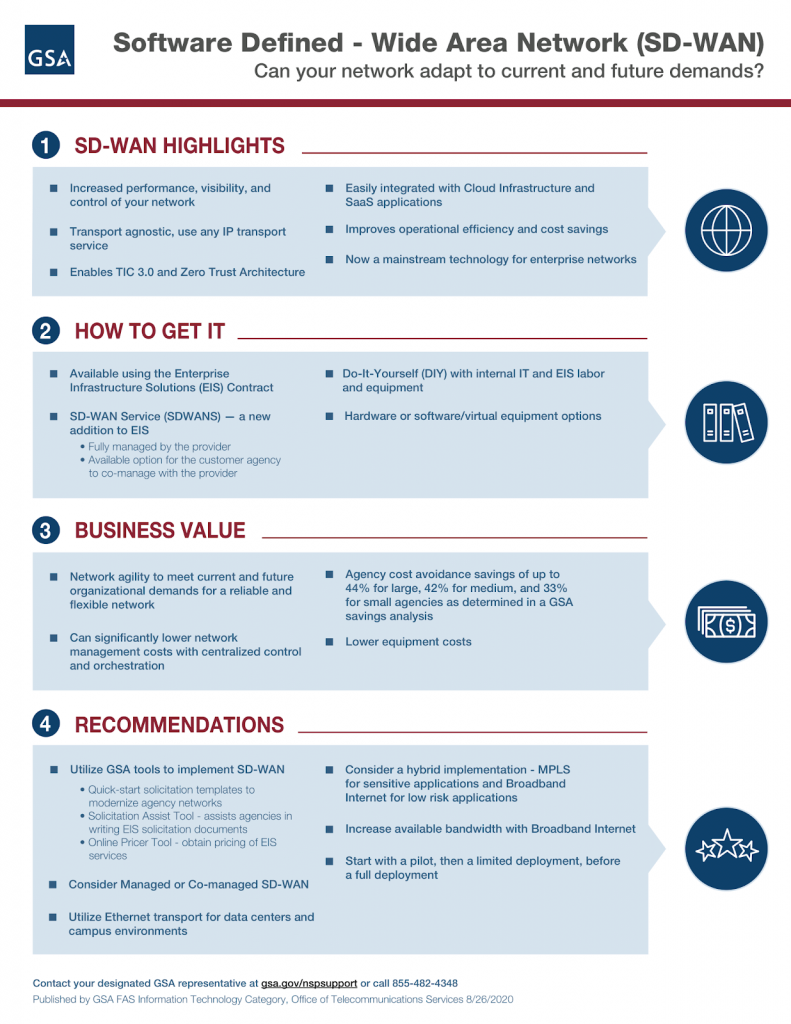 In a GSA analysis of SD-WAN, medium-sized agencies can achieve a cost avoidance of 42%. Our SD-WAN Overview and Ordering Guide lays out everything you need to evaluate SD-WAN and acquire it on EIS. How's your network able to support the ever-expanding use of cloud services? Utilize the numerous GSA resources to assist your organization to modernize with SD-WAN.
For additional information on what IT modernization could look like for your agency, please contact your designated GSA representative or call 855-482-4348.
Visit the Enterprise Infrastructure Solutions page to learn more and use our IT Solutions Navigator to find the vehicle that's right for you.
Please follow us on Twitter @GSA_ITC and LinkedIn to join our ongoing conversations about government IT.
To get updates for this blog, please sign up on the right-hand side of the page where it says Sign up for Blog Updates.