The Wheel Is Turning
If you've scrolled through social media or watched live TV lately, you've likely seen an ad for 5G. If you find yourself wondering why there is so much conversation about 5G –you are not alone. Is it worth all of this attention?
We think so. 5G is set to revolutionize the world's telecommunications infrastructure, paving the way for even greater use of autonomous devices and expanding the number of interconnected devices in the Internet of Things (IoT).
In October 2019, GSA held its first public event about 5G, where government and industry experts gave us a compelling look at the rollout of next generation networks, discussed how they'll support IoT applications, and outlined the steps necessary to secure this new hyperconnected future.
Going forward, we'll be sharing a series of posts outlining how we expect 5G will drive change across government, and what agencies should do to prepare. 5G means different things to different people, so our "5G for Government" strategy is best visualized as a wheel composed of six core concepts:
Technology
Standards
Security
Policy
Acquisition
Use Cases
This post will look at the evolution of the technology enabling 5G, and more importantly, the types of devices, applications, and services that will soon depend on it.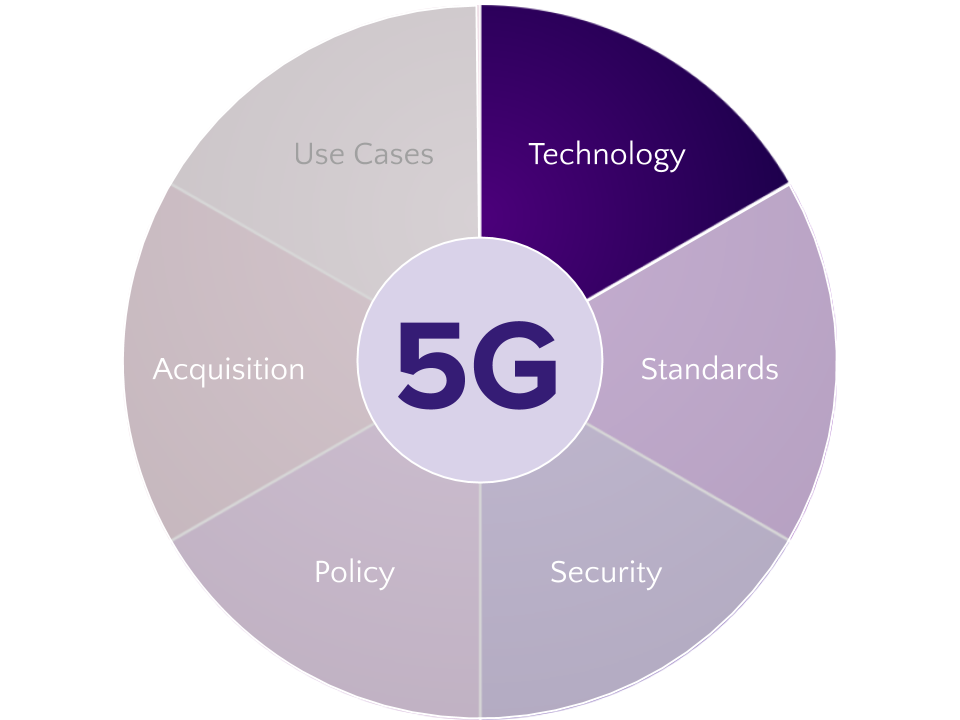 New Tech, Same Trends
The first cellular telephones hit the market in the mid-1970s and offered wireless voice calling over an analog network. In the early 90s, this first generation cellular technology, using analog telecommunications standards, transitioned to a 2G digital network, allowing both voice and data to travel wirelessly between devices.
3G and 4G gave us mobile internet and streaming video, respectively, leading to the rise of the smartphone and entirely new industries, such as mobile application development and cross-platform analytics.
Remember when you couldn't open an email attachment on your phone or send a photo—let alone a video—over a wireless network? When did that change?
Most people could not tell you which network generation enabled what feature, only that devices became faster, applications more data dependent, and new services arose as capabilities increased.
The same will be true for 5G, but due to its engineered flexibility and vast capacity for high-speed data transfer, the changes will come sooner and reach far beyond communications.
Why 5G Is Different
Since 5G is still new to the market, what we can say about its current technology is limited. Indeed, many experts will tell you that 5G was designed to support applications and services that are still largely confined to a laboratory setting. For now, when we look at the technology, we can only compare it to what's currently on the market, but when we do, it becomes apparent that we're just seeing the tip of the iceberg.
Changing Devices
Take the smartphone, for instance. Right now, a phone on a 4G network downloads data at approximately 12-36 megabits per second (Mbps). A 5G enabled phone clocks in at 50 Mbps at minimum. Phones on the fastest commercial networks can reach 1,000 (1 gigabit) per second, and average speeds are expected to exceed 10 Gbps as the technology matures.
How does it reach these speeds? 5G transmitters use higher frequency radio waves, some in or near the millimeter wave band of the electromagnetic spectrum. Bandwidth is much more plentiful there, which greatly increases the capacity and speed of data transfer. Instead of a single cellular antenna, the 5G phone contains multiple receivers, allowing it to process all this data over multiple streams, in parallel. You could liken it to filling a glass of water from the bottom up, and the top down, at the same time.
Smaller, More Flexible Networks
Like their predecessors, 5G networks are digital cellular networks, in which the service area covered by providers is divided into a mosaic of small geographical areas called cells. While conventional cell phone towers are hundreds of feet tall, millimeter wave antennas are only a few inches long. Though an individual antenna may only cover a small area, multiple antennas can work together as phased arrays to beam data straight to the user. This technique, known as beamforming, is one of many ways that 5G networks can be optimized to improve performance while it serves huge numbers of devices.
Open To Innovation
Small but mighty, 5G networks could be used to provide general home and office internet connections. A technique called network slicing could be used to segment a larger 5G network into highly customizable "slices," managed and operated independent of the infrastructure owner, tailored to unique business needs. When used in conjunction with software-defined wide area networking (SD-WAN), 5G could replace outdated cable connections in government offices, campuses, and military bases.
Edge computing is another exciting concept made practical by 5G. This technique involves creating a cloud-based IT service environment at the edge of the cell, leveraging its unique properties and raw power to move computational workloads physically closer to the user. Theoretically, sophisticated edge computing could eliminate the need for physical hard drives and bulky device components, as the actual computing would occur in the cloud and beam compiled data directly to a screen or user interface. Battery sizes would shrink, ushering in new opportunities for wearable and drone technology.
Hypercharged wireless internet and robust cloud computing are just the start. The high data rate and low latency of 5G are envisioned as opening up many new applications in the near future. The use of data-heavy virtual and augmented reality applications in healthcare and research is one promising example. Another is 5G's facilitation of fast machine-to-machine interactions in the coming Internet of Things . For example, computers in vehicles would continuously communicate with each other, sensors on the road, and real-time, artificial intelligence) generated directions using 5G. This is the kind of "smart grid" cities will have to deploy to support self-driving cars. Over time, communication capabilities and computing power will combine and extend across networks and devices, and information and computing power will be instantaneously available. This will encourage a wave of innovation in applications, services and functions built to run on the new infrastructure.
Lightning speed, expanded capacity, and massive connectivity are the defining characteristics of current 5G networks and enabled devices. These conditions are ideal for emerging technologies to take root.
More than that, 5G is widely expected to be a defining stage in the global evolution of IT in general, affecting almost all parts of industry and society. In subsequent posts, we'll take a look at the standards on which it will all be built and explore the security considerations around its deployment.
###
Until then, please follow us on Twitter @GSA_ITC and LinkedIn to join our ongoing conversations about government IT.
To get updates for this blog, please sign up on the right-hand side of the page where it says Sign up for Blog Updates.