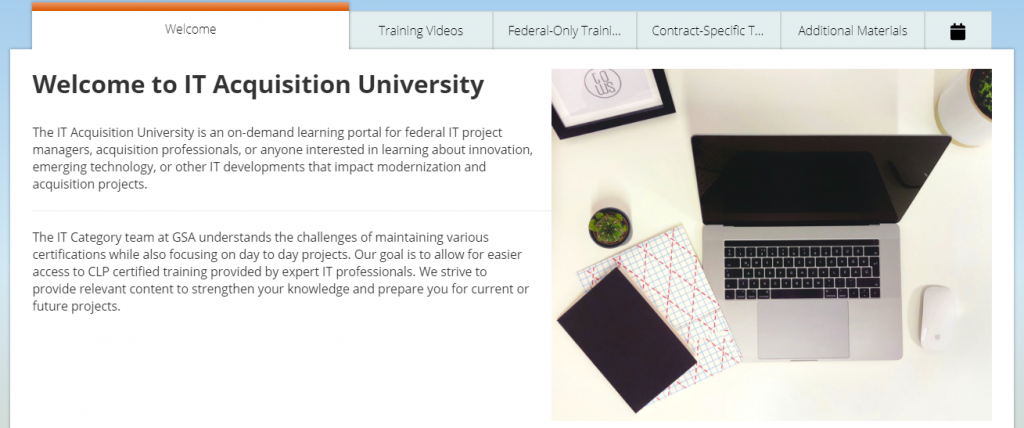 The IT Acquisition University is designed to increase access to on-demand information technology training for interested IT government professionals.
Federal acquisition can be a murky topic. When procuring IT products that can't be seen, are hard to quantify, and are on the cutting edge of innovation, federal acquisition becomes even more difficult. To make things easier, we launched a new training tool, the IT Acquisition University (ITAU), that aims to cut through and demystify the challenges of government IT acquisition.
Hosted on GSA's Acquisition Gateway, ITAU is a public, on-demand platform that gives users access to training on such topics as cybersecurity, cloud migration, and federal IT modernization. A library of videos, slideshows, audio, and other media will be at the fingertips of those looking to increase their IT acquisition skillset. Government users seeking Continuous Learning Point (CLP) opportunities can take advantage of short quizzes after each completed training to earn CLPs on their own schedule. Whether you are a contracting professional, program manager, or a federal IT stakeholder, the breadth of material aims to appeal to all program levels and positions.
GSA's ITAU sources its content from many of GSA's own training and events. Access recordings of recent GSA Information Technology Category (ITC) programming to stay up-to-date with best practices, acquisition tips and tricks, and more. The portal also has GSA-specific training available for many of its contracts, such as Enterprise Infrastructure Solutions (EIS). Regular content refreshes will ensure that the site's training material stays relevant and useful.
We hope that the federal IT acquisition community will take advantage of this exciting educational tool. GSA ITC welcomes user feedback and questions at the following email: ITAU@gsa.gov.
Please follow us on Twitter @GSA_ITC and LinkedIn to join our ongoing conversations about government IT.
To get updates for this blog, please sign up on the right-hand side of the page where it says Sign up for Blog Updates.