Improve the way Federal agencies adopt, buy, build, and use technology—this is one of the key strategic goals of GSA and our primary job here at the Federal Acquisition Service. But what do we do when the technology in question is more theory than practice? How should we in government plan to adopt, buy, build, and use artificial intelligence (AI)?
2019 saw several key events that could shape the ways we apply AI to the work of government across an ever-changing digital landscape.
We begin in February when the President launched the American AI Initiative—the official AI strategy of the United States. The initiative formalized a governmentwide effort to promote and protect national AI technology and innovation in collaboration and engagement with the private sector, academia, the public, and like-minded international partners.
Having multiple pilot programs already in play, GSA moved quickly to make the most of the new strategy, forming fresh collaborations and leveraging long-standing partnerships to familiarize our customers and vendors with AI applications.
Augmented Intelligence
In June, the White House released its action plan to implement the Federal Data Strategy. GSA was tapped to develop an ethics framework and prepare the federal workforce for critical data-related activities such as analysis and evaluation, data management, and privacy protection. To that end:
We focus on very narrow process improvements with short development cycles using an agile framework that provides us with continuous feedback for better alignment of solutions.
We are investing in training and developing our IT acquisition professionals to be transformative agents of change.
We sought a vision with the customer in mind, a human-centered design.
The goal of AI for the government is not to replace people, but to augment the speed, accuracy, and efficiency of public service. Ultimately, we believe mission success is contingent upon collaboration and partnerships that spur innovation in delivering AI solutions.
Start with a Plan
Thinking about AI but don't know how to start? The AI Community of Practice produced this handy self-assessment to help select the right automation solution for the job.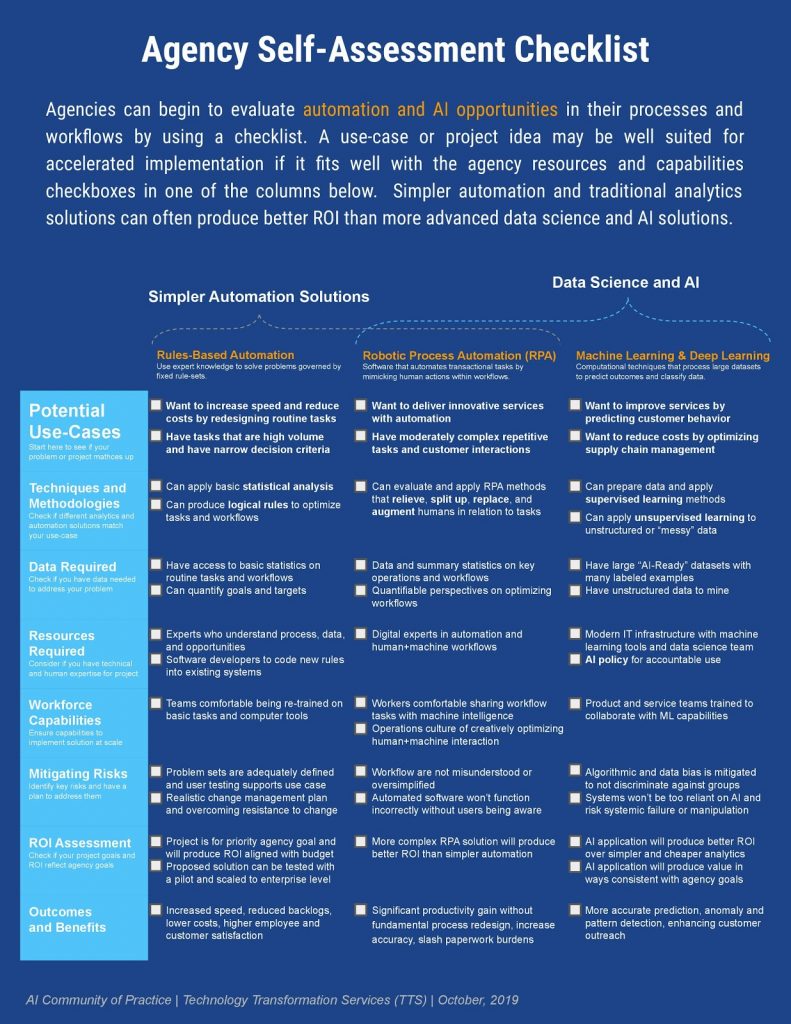 Adopt an Agile Framework
AI innovation requires an agile mindset to prove mission value. Technology advances so fast that in order to keep up we must be able to create something usable quickly, to enable faster customer feedback, while leaving room for emerging solutions. Identifying problems and finding immediate solutions early on means that multiple alternatives can emerge more quickly. This lesson has served us well in implementing RPA technology. Using the agile approach, we readily identified what tasks can be and can not be automated, requirements, and potential risks and implications. AI has the capability to eliminate low level tasks that are repetitive and well defined so more focus can be placed on critical business concerns.
Invest and Prioritize in Training
Learn to assess skill sets to achieve mission needs. Conduct market research and review human capital processes to see what courses are offered to educate and empower people to do high-level work and train them for the road ahead. Everyone knows the saying "when you take care of your people, they'll take care of you." Invest in people by providing support, trust, and opportunities. This will empower your team and help them to better fulfill mission needs, connect deeply with customers and create memorable experiences.
Human-Centered Design
Our customers and shareholders drive the demand for innovative AI technology. Customer mission needs must come first. Human-centered design is a way of meeting our customer needs by making systems more responsive. We are currently seeking feedback from industry on HCD Services.
Collaboration spurs Innovation
Collaboration not only inspires innovation, it's essential to educating your workforce and empowering them to deploy effective AI solutions. Joining networks such as the AI Community of Practice helps your team foster best practices, learn from use cases, identify tools, and spark ethical discussions around AI technology. Such partnerships are key to scaling up AI procurement practices. Offices throughout agencies dedicated to developing AI capabilities must start talking. What are your organization's biggest challenges to achieving your operational mission? Communities of practice can help you find partners across government trying to tackle similar challenges through the use of AI, machine learning and automation.
Preparing for the Future
On January 29th, we held our first in a series of emerging technology events. This first iteration focused on AI and generated interest across government and industry. With an agenda boasting 16 experts in the field, we kick-started a conversation on the benefits that AI could bring to government.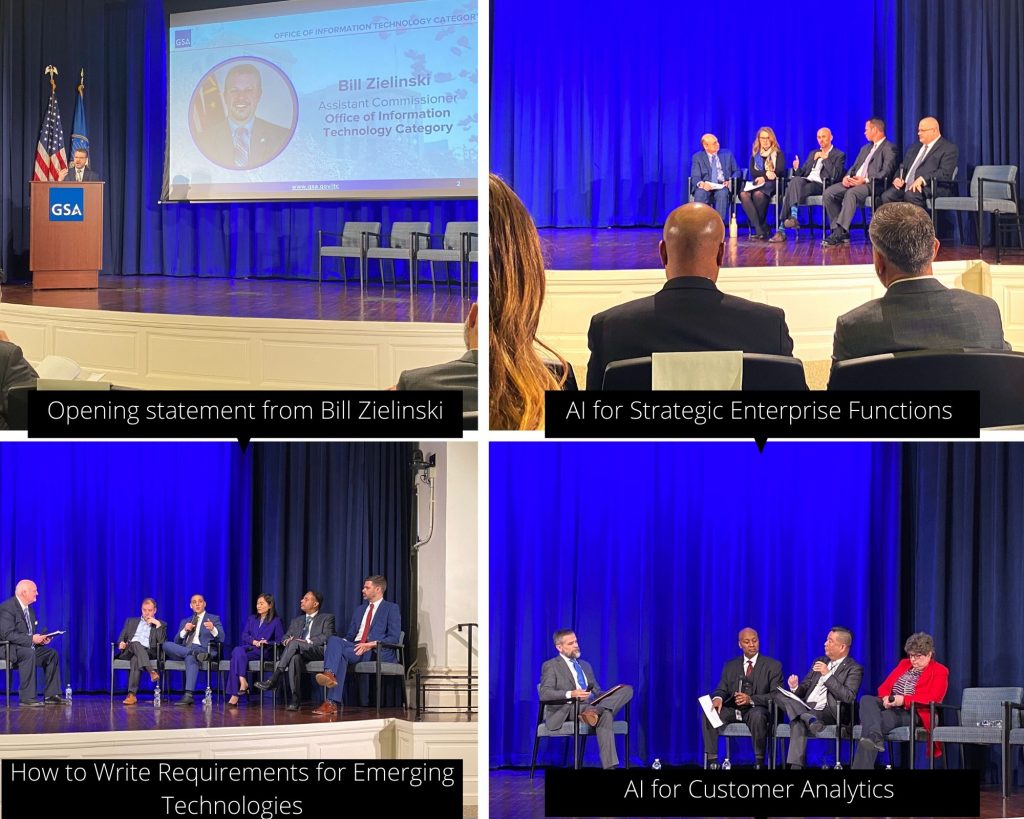 We're excited and ready to demonstrate continued success in meeting customer and shareholder needs through innovative AI solutions.
Contact our customer support team to learn more about the GSA solutions available to your agency.
Visit our website to learn more about our offerings or use our IT Solutions Navigator to find the vehicle that's right for your AI requirements.
Please follow us on Twitter @GSA_ITC and LinkedIn to join our ongoing conversations about government IT.
To get updates for this blog, please sign up on the right-hand side of the page where it says Sign up for Blog Updates.
Continue Reading...