By Keith Nakasone, Deputy Assistant Commissioner, IT Acquisition
To do our job as the premier provider of efficient and effective acquisition solutions across government, GSA relies heavily on strong partnerships to provide our customers with faster, smarter, and better value IT solutions.
Recently, I participated in an industry day hosted by the Defense Health Agency (DHA). I attend these types of events because they bring executives, operations, and industry together in real-time to make important decisions at the speed of innovation.
Supporting and collaborating with DHA on their health IT industry day is just one way we continue to strengthen our partnership with them.
Gaining a better understanding of DHA's health IT requirements, as well as how GSA fits in to its strategic plan as an acquisition solutions partner, helps us shape our solutions to drive mission success for DHA and other customer agencies.
DHA Reverse Industry Day
DHA also held a reverse industry day, with their industry partners covering innovative solutions through vendor think tank presentations on topics such as comprehensive IT tracking systems, standardizing medical device integration, cloud services, telehealth solutions, and cyber governance.
This integrated industry day helped DHA get to know the capabilities of providers on our Health IT Services Special Item Number (SIN) 132-56 on IT Schedule 70.
Our Health IT Services SIN helps agencies to easily find new partners and access emerging and innovative health IT services. The GSA Health IT Service SIN :
simplifies the process of procuring commercial health IT services,
provides cost savings through aggregated volume buying,
offers greater price-and-spend visibility, and
fosters competition while supporting small business.
Collaboration Leads to Solutions
Having these in-person engagements allows us to build our procurement solutions to better understand industry's capabilities and agency requirements. All parties involved benefit from the knowledge exchange:
Agencies can share their forecasted requirements with industry,
Industry representatives can present their perspectives and capabilities to the acquisition workforce, and
GSA helps our agency customers acquire the solutions they need from industry.
It's all about collaboration–beginning with knowledge sharing, which leads to problem-solving and ultimately an acquisition solution.
We plan on doing more collaborative events like DHA's industry day. For us, attending and supporting these events underpins our mission of maximizing customer value and mission productivity through IT acquisitions.
If your agency is interested in hosting an industry day event, let us know so we can support and attend.
We welcome any feedback from our partners to continue improving these engagement opportunities.
For more information on collaborating with us, please visit www.gsa.gov/itc.
Please follow us on Twitter @GSA_ITC and LinkedIn to join our ongoing conversations about government IT.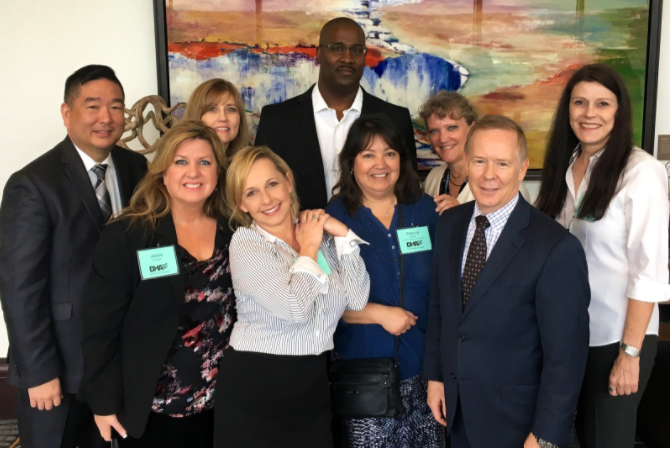 Back row (left to right): Keith Nakasone-GSA ITC DAC for Acquisition; Jill Thomas-GSA ITC Div Director; Keith George-GSA ITC Contracting Officer; Karen Beyer-GSA CSD, Jane Scroggins-GSA ITC Branch Chief.
Front Row (left to right): Jackie Pinkston-DHA Chief J4 CAE Contracting Office; Tara Wetli-GSA ITC Contract Specialist; Pat Molina-GSA ITC Contracting Officer, Dr. Barclay Butler-DHA CAE