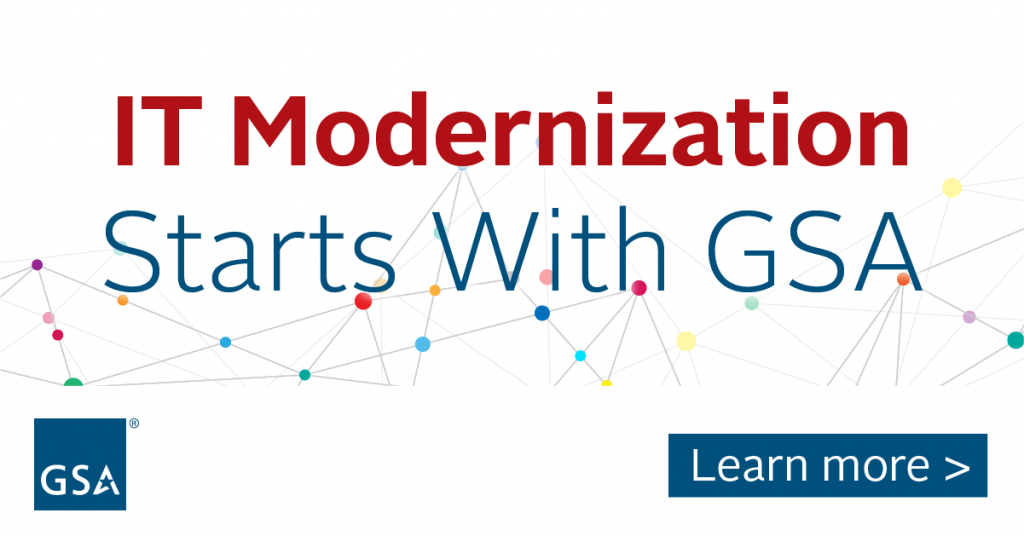 GSA's EIS Path to the Future online series will focus on sharing best practices that will help federal agencies prepare for EIS transition activities.
Be sure to attend if you are a:
CIO/IT staff member
Contracting Officer
Contracting Specialist
Financial staff member
Program manager
Project manager
Telecom staff member
Transition executive or manager
You can sign up to attend some or all of the sessions listed below. Attendees will earn one Continuous Learning Point (CLP) for each session attended – up to six for the series. Your GSA support team will be available to answer your questions during the event.
The sessions:
Tips for Proposal Evaluation
Wednesday, June 10
2 to 3 p.m. (ET)
Join us to hear from DOI about how they sustained their EIS task-order award after a GAO protest and the lessons they learned that will benefit all agencies.
Trusted Internet Connection (TIC) 3
Wednesday, June 17
3 to 4 p.m. (ET)
In this session, you'll learn from GSA and DHS/CISA what's expected of agencies to protect their networks. Discover what is available to help your agency meet security requirements using EIS. We will discuss how solutions can be packaged to provide the security you need now and will need later.
Transition Closeout
Thursday, June 18
2 to 3 p.m. (ET)
As government agencies move to the EIS acquisition vehicle, legacy telecommunications contracts will expire. GSA will limit the use of its legacy telecommunications contracts and freeze all future growth on those vehicles. Extended use of these contracts is limited to agencies who are making sufficient transition progress to be 100% off the expiring contracts by September 30, 2022. The Networks Authorized User List (NAUL) will be updated to remove users in phases, which is expected to begin in summer 2020. In addition, GSA will stop processing any new Networx/WITS contract modifications and any new LSA implementation orders on October 1, 2020. Join us for this session to ensure that your agency is positioned well for the future and will avoid disruptions in service.
EIS Ordering
Wednesday, June 24
2:30 to 3:30 p.m. (ET)
After your task order is awarded and you've developed your implementation plan with your EIS supplier, it'll be time to begin the ordering process. This interactive discussion will review who should be involved, what information needs to be conveyed, and how an agency begins the process. GSA will share all of this – and more – to help you expedite your ordering process.
Rules and Tips for Awarding EIS Contract Modifications Prior to Awarding Task Orders
Wednesday, July 15
2 to 3 p.m. (ET)
This session will cover the authorization of orders, Network Site Codes (NSCs) not in the traffic model, requesting status of vendor submissions (modifications) that affect your task-order award(s), and modification priority.
Solutions to Modernize your Enterprise Network
Wednesday, July 22
2 to 3 p.m. (ET)
During this session, we'll discuss advancements in network technologies – such as software-defined networking and managed security services – and how your agency can leverage these technologies as part of your EIS modernization plan. We will also explore the as-a-service model common with cloud computing and its applicability to network services.
On the registration page, check the boxes for each one-hour event you would like to attend. You must have a .gov or .mil email address to register.
Sign up for some or all of the sessions today!
For more information, visit our pages for EIS and the EIS transition. Members of the media who would like more information or to attend should contact us at press@gsa.gov.
GSA is here to help! If you have questions about EIS or the EIS transition, please contact your telecom agency manager.
Please follow us on Twitter @GSA_ITC and LinkedIn to join our ongoing conversations about government IT.
To get updates for this blog, please sign up on the right-hand side of the page where it says Sign up for Blog Updates.