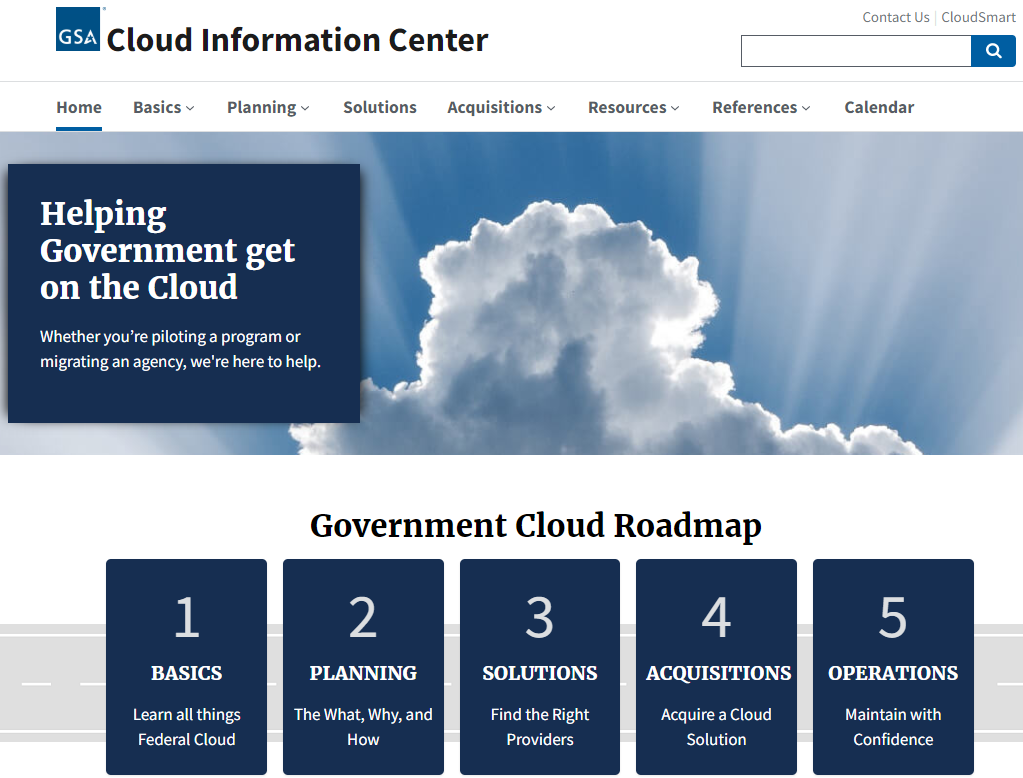 The enhanced Cloud Information Center is designed to help users intuitively navigate the cloud adoption process, leverage best practices, and find training opportunities.
"The mind is not a vessel to be filled, but a fire to be kindled." The ancient philosopher Plutarch first proposed this analogy nearly 2,000 years ago in his essay On Listening to Lectures to help his students learn. Though the means by which we convey knowledge have expanded, the same didactic concept can be applied to educating the Federal IT workforce about cloud computing.
Last year, the government updated its Federal Cloud Computing Strategy. Known as Cloud Smart, the strategy identified three key pillars of successful cloud adoption—security, procurement, and workforce—and directed actions be taken to strengthen them. Number one on the list was the creation of "a central location to share guidance and best practices on cloud-related topics with [government] agencies."
GSA created the Cloud Information Center (CIC) to serve as this cloud computing knowledge hub and frontline resource for Cloud Smart acquisitions. It contains a comprehensive collection of up-to-date cloud computing best practices, guidance, and templates from across the government. For the past year, the CIC has been actively educating government cloud stakeholders and demonstrating how federal agencies can leverage the technology to effectively enable their respective goals and missions.
As Plutarch's insight into human learning demonstrates, putting all the information in one place is not enough, it must be presented in a way that is approachable and sparks interest. Having accomplished its first goal of centralizing the government's cloud knowledge, the next iteration of the CIC delivers a positive digital experience that prioritizes accessibility and learning.
The enhanced CIC joins 18F, Centers of Excellence and FedRAMP in leveraging the Federalist platform and U.S. Web Design System to deliver rapid deployment and modern design. Visitors will enjoy an improved user experience: a cleaner interface, more intuitive navigation, and content organized in sequence of the cloud adoption lifecycle. The enhanced CIC follows the core user experience requirements set forth in the 21st Century Integrated Digital Experience Act, making it:
accessible and usable
based around user needs and tasks
consistent in appearance
securely hosted and connected
original, not duplicative
searchable
mobile-friendly
By embracing these human-centered design principles, the CIC will be more accessible to individuals with disabilities and better positioned to serve a wider audience.
The CIC is a collaborative effort. It will continue to promote and enable governmentwide adoption and deployment of cloud technologies without bias towards any particular contract vehicle, vendor or solution. It incorporates information and experiences from government agencies, industry, academia and other cloud-involved entities. If you are a cloud stakeholder who is interested in contributing to the CIC, making suggestions, listing a cloud contract vehicle or otherwise improving the tool's comprehensiveness and accuracy, the GSA Cloud Team wants to hear from you.
Email cloudinfo@gsa.gov to contribute a cloud resource, share your feedback or to reach a cloud subject matter expert.
Please follow us on Twitter @GSA_ITC and LinkedIn to join our ongoing conversations about government IT.
To get updates for this blog, please sign up on the right-hand side of the page where it says Sign up for Blog Updates.