The IT requirements of government agencies are always shifting, as is the IT acquisition landscape itself. The pandemic amplified the need for desktops and laptops so that agencies can continue carrying out missions during emergencies that keep folks away from a physical workplace. To meet this ongoing need, the Information Technology Category (ITC) established the governmentwide strategic solutions (GSS) BPAs in 2015.
As a Best-in-Class solution that offers desktop and laptop computers with standard configurations that can then be customized to meet customer requirements, the GSS BPAs are another example of how ITC hardware and software solutions are practical and cost-competitive for agencies.
Governmentwide strategic solutions (GSS) BPAs
The GSS BPAs allow all government agencies to simply "click and buy" pre-configured laptops, desktops, tablets, and monitors. They furnish option upgrades and services with a faster, more-efficient business model that provides cost savings for the government as well as next-generation technology customer-service capabilities. With a streamlined buying process for federal, state, local, and tribal governments, no additional competition or brand name justification is required. If an agency needs an end user device, this is the program to get it.
The GSS BPAs are recompeted annually to incorporate customer feedback and new products. This ensures:
The latest technology is available.
Technology configurations align with agency needs.
More consistent and competitive pricing.
Better terms and conditions.
Our Workstation Category Team works closely with agency and industry stakeholders to evaluate and refresh GSS standard configurations every nine months, helping the government aggregate demand and use its consolidated buying power.
On September 3, 2022, ITC awarded 4 categories for its Version 8 GSS BPAs for Dell, HP, Lenovo and Microsoft. The BPAs will have a performance period of 5 years, and products are available through GSA Advantage!® under GSS for IT products. To mitigate security risks, each of the awardees maintain vetted supply chain risk management (SCRM) plans in compliance with the NIST standard. As of Version 8, all machines now have a RAM minimum of 16GB, and all performance machines boast a minimum of 32GB.
GSS BPAs by the numbers
Did you know that the largest purchasing customer off of the GSS BPA realized a bulk discount of 50 percent of the Schedule price? Check out some other GSS BPA statistics below to see how it measures up:
Agencies executing large-quantity purchases through GSA's GSS program in FY22 have an average savings per unit of 38 percent off the base price.
The GSS Program has 29 vendors (23 of which are small businesses).
The U.S. Special Operations Command is the GSS BPAs' top user with over $238 million of orders since FY18.
Over 1,300 total transactions have been conducted this year.
From FY20 to FY21, GSS program sales increased 36.4 percent, recognition of the value many agencies see in the program.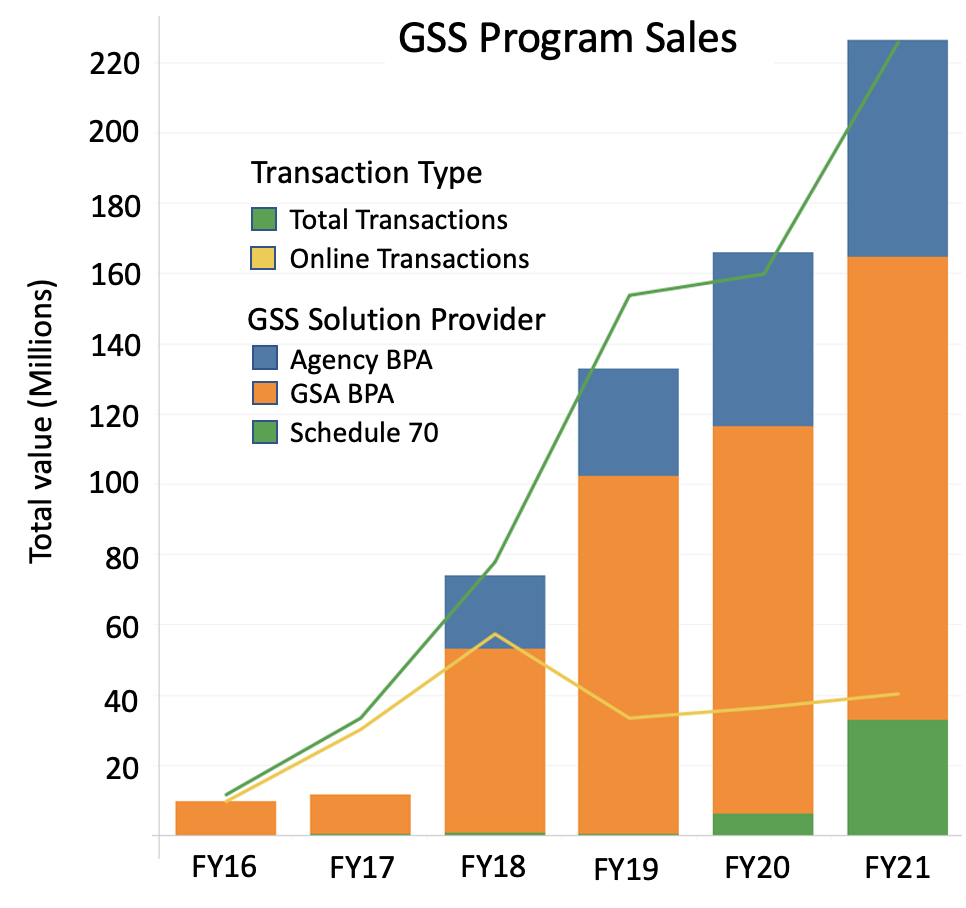 As the end of the fiscal year nears, check out the GSS BPAs as an easy-to-use, compliant and efficient purchasing option for your hardware needs. These BPAs are available via the GSA AdvantageSelect buying platform. Use eBuy to get quotes for your GSS desktop and laptop products.
To read more on how to buy, check out the ITC GSS buying guide. For more details on ordering, visit the GSS information page. Visit gsa.gov/gssdesktoplaptop to learn more about these solutions or use our IT Solutions Navigator to find the vehicle that's right for you.
Follow ITC on Twitter and LinkedIn, and subscribe for blog updates.