Wikipedia defines "collaboration" as "working with others to do a task and to achieve shared goals." According to the Free Dictionary, collaborating is a partnership, working as a team, or being in concert.   
For GSA, collaboration is more than just a buzzword or standing at a podium talking to stakeholders. It is a dialog – a give and take that includes understanding and respecting everyone's needs, goals, and values.
Successful collaboration happens when everyone is committed to the core principles of trust, understanding, and compromise– and the end result is a better outcome for all parties.
Creating the IT Portfolio of Solutions
At GSA, collaboration is a driving force as we re-shape many of our government-wide programs and contracts. For those of you working with GSA, you've seen or been part of any number of working groups, industry days, interagency meetings, and requirements teams. You've contributed thousands of ideas and comments on our RFIs, draft RFPs and in our Interact communities.  You've rolled up your sleeves and helped shape our offerings from adding a new Special Item Number (SIN) on IT Schedule 70, to developing OASIS, Alliant 2, Enterprise Infrastructure Solutions (EIS), Network Services 2020 (NS2020), cloud strategies, identity management solutions, mobility and wireless solutions, satellite solutions, software, hardware and so much more.  
The Government's shift to Category Management (CM), has also guided our planning and resulting solutions. We have experts that know telecom, software, IT hardware, IT services and IT security. The category hallways within the Acquisition Gateway provide access to many government-wide contracts, tools, pricing information, buying guides, templates, best practices and access to other buyers across government so you don't have to figure things out on your own and are able to leverage work others have already done.
Our collective work has led to a very clear strategy for GSA's next generation of IT and telecommunications solutions.  As a result, GSA is implementing solutions that better meet agencies' needs, provide flexibility in acquiring IT/telecom, provide savings, reduce duplication and are reflective of technology market offerings. The graphic below shows exactly what we've mapped out and what we've used to guide our solutions development.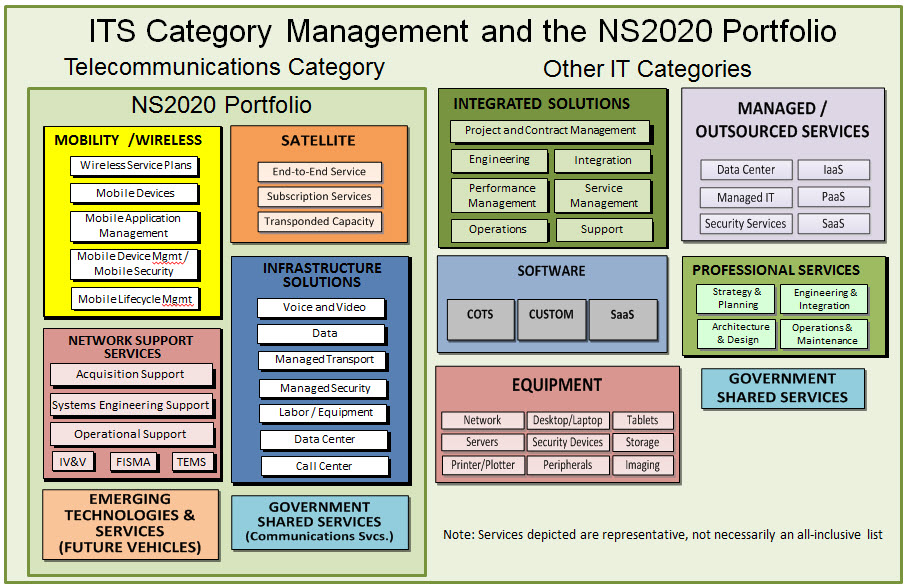 Reducing Duplication While Providing Flexibility
Our category management approach ensures that our contract solutions provide different ways to buy technology based on agency collaboration and feedback. We've been asked why you see similar technology or services available on more than one of our contracts. Some might say this also results in "duplication" or confusion, but our customers are telling us that they  need flexibility to buy technology products and services in different ways based on what I refer to it as, "the nature of the buy."  
ITS prides itself on providing both general and niche solutions for IT and telecommunications products and services to federal, state and local agencies.  These solutions draw on GSA's acquisition and IT expertise and they help our customers by allowing them to direct more resources into focusing on their core missions. About 30% of federal IT spend flows through ITS contracts and programs. We hold ourselves accountable for increasing federal procurement efficiency, reducing costs for both government and industry, and helping government achieve better results.  Reducing overlapping and redundant contracts is important to ITS. We've taken a true portfolio approach to planning our solutions and ensuring we provide maximum flexibility for government buyers as they make complex procurement strategy decisions.   
For example, agencies today are procuring wireless services and devices in a number of ways.  Our FSSI Wireless BPAs offer certain terms and conditions, plans, features (such as aggregated pooling of minutes and data) and pricing for services with devices provided as part of the overall solution. On IT Schedule 70, agencies have the option of buying just devices or service plans and devices and constructing their own terms and conditions.  If an agency were to use Networx for the wireless services/devices, they may be doing so to consolidate mobile services on a broader enterprise platform implementation.  
Cloud is another great example. We have cloud-based services available on IT Schedule 70, on our IaaS and EaaS BPAs, through GWACs (especially where integration or transition services are also needed) and through our network services contracts (off premise hosting or data center solutions are examples).  Our network services contracts are telecommunications focused but also recognize broader, related products and services may need to be part of the overall solution. EIS will provide best in class virtual private network services, Ethernet, voice, and managed network services at significant discounts.  These services may also be related to an agency's enterprise implementation of data centers or call centers — either on-site or cloud-based.  While these are just a few examples, you can see it really doesn't make sense to try to define, "bucket," and limit technology solutions to individual contracts.
Guiding Agencies to the best choice
GSA's job is to understand the market, listen to agency and industry partners, and use what we've learned to create solutions. While creating solutions will involve some overlap, we want to act as an honest broker and help agencies get to the best solution for them. Sometimes that includes guiding agencies to other non-GSA enterprise contracts that might be a better fit for their requirements.
We are making it our responsibility to help agencies through the process, especially when overlap could cause potential confusion about which vehicle is optimal for certain requirements. We will accomplish this through our continued proactive management approach with both customers and vendors. Through collaboration, scope reviews, and relationships, we want to better understand the core requirements and make the best acquisition recommendation.
As I pointed out earlier, we don't take a "one size fits all" approach. If an agency has a cloud requirement that is within the scope of multiple contracts, we will work with that customer to understand their requirements and help assess their acquisition choices. We will make the best recommendation to ensure the agency requirements are being met in the most efficient and effective manner with the highest quality vendors possible.  On contracts such as our GWACs, Networx, and EIS, GSA performs pre-award and post-award scope reviews ensuring requirements are not only within the scope of the contract but that the contract is being used most effectively.  In addition, on our GWACs and on EIS, training is mandatory for contracting officers who use these contracts prior to GSA issuing them a delegation of procurement authority.
Final Thoughts
Even with slight overlap, these vehicles will deliver flexibility to buyers across government through pre-existing, pre-vetted contracts, which ultimately saves government and industry from investing time and money on new and redundant open-market contracts.
A few final, important thoughts I want to share with you about collaboration:
Collaboration allows us to be responsive continually to existing and emerging needs of government agencies and industry

Continual collaboration is always a goal, often a challenge, and clearly an opportunity

We always look for ways to make IT acquisitions seamlessly support agency missions, rather than hinder them. We also work to align to industry partners' business goals, when they do not detract from government goals

Customer convenience, flexibility, and choice will always matter
Please follow us on Twitter @GSA_ITS to join GSA's ITS's overall acquisition conversations.
Join us for a live webcast demonstration of the Acquisition Gateway with Q&A on Wednesday, October 07, 2015 at 2 p.m. ET, 1 p.m. CT, Noon MT, 11 a.m. PT. There's no charge for this training, and you can earn one Continuous Learning Point (CLP). This webcast is open to all and only federal government agency personnel. Register today!