This August, we brought nearly 300 representatives from government and industry together for our 2019 IT Acquisition Summit. Collaborative events like this are critical to our success in supporting agency missions across government.
We met in Fort Worth, home of GSA's Greater Southwest Region 7, which spans Texas, Louisiana, Arkansas, Oklahoma and New Mexico. We used a human-centered design approach to generate open communication and collaboration between GSA and our industry partners. Learning through use-cases and sharing information helps us better understand the challenges and constraints both government and industry have.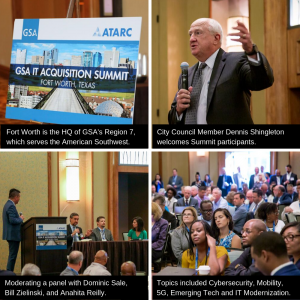 The summit was held in coordination with the Advanced Technology Academic Research Center (ATARC) and moderated by its president, Tom Suder. During the first day, attendees heard from various GSA and industry representatives on popular topics such as cybersecurity, mobility, 5G, emerging tech, and IT modernization. 
Dennis Shingleton, member of the City Council and mayor pro tempore, opened the summit with a boisterous Texas-style welcome.
I moderated the kick-off session with panelists Bill Zielinski, Assistant Commissioner of the IT Category; Anahita Reilly, Chief Customer Officer of the Office of Customer Experience; and Dominic Sale, Assistant Commissioner of the Office of Operations for Technology Transformation Services. They discussed GSA's approach to IT modernization, category management, and shared services.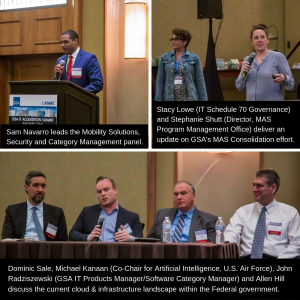 An afternoon panel from the Mobility Services Category Team discussed the 5G rollout, how it will shape public-sector adoption of Internet of Things applications, and its implications for supply chain security. Allen Hill, director of the Office of Telecommunications, opened the session, and Sam Navarro, program manager of the Enterprise Mobility Program, moderated the panel. Representatives from AT&T, Verizon, MetTel, and T-Mobile discussed the state of mobile technology and how consumers of 5G determine the new ways they will use the technology.
Our summit concluded with opportunities to attend one-on-one sessions with GSA acquisition professionals and an interactive use-case workshop.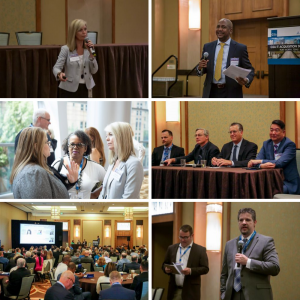 We plan on hosting the IT Acquisition Summit again in 2020 — slated for Washington, D.C. The open communication and collaboration in a focused setting foster the type of game-changing ideas we need to continue enhancing IT acquisition for the whole of government.
Please follow us on Twitter @GSA_ITC and LinkedIn to join our ongoing conversations about government IT.
To get updates for this blog, please sign up on the right-hand side of the page where it says Sign up for Blog Updates.
*Photographs above by James Wronski, Carahsoft